Alexa Chung has announced VILLOID's expansion into hyper curated shopping. From 1st December, VILLOID will enable style influencers to sell direct to their fans and the public, through their own shops and a revamped VILLOID.com.
VILLOID, the styleboard app co-founded by Alexa Chung and launched in 2015, has been a huge success with dedicated users in over 180 countries. But every play should have a second act.
By inviting some of the world's best style influencers to open and curate their own web shops within the VILLOID platform, all collected in our new VILLOID.com, VILLOID is now changing the way you shop. Our shop owners fill their digital rails with products they love and wear from the 4,000+ amazing brands we stock – everything from high street to high end and lots of emerging designers and vintage in between – and you can buy it all at the click of a buy button. Looking for an Xmas party outfit? Head into Poppy Delevingne's dress section. Lusting after that printed tee you saw Gia Coppola wear on Instagram? It's there in her shop.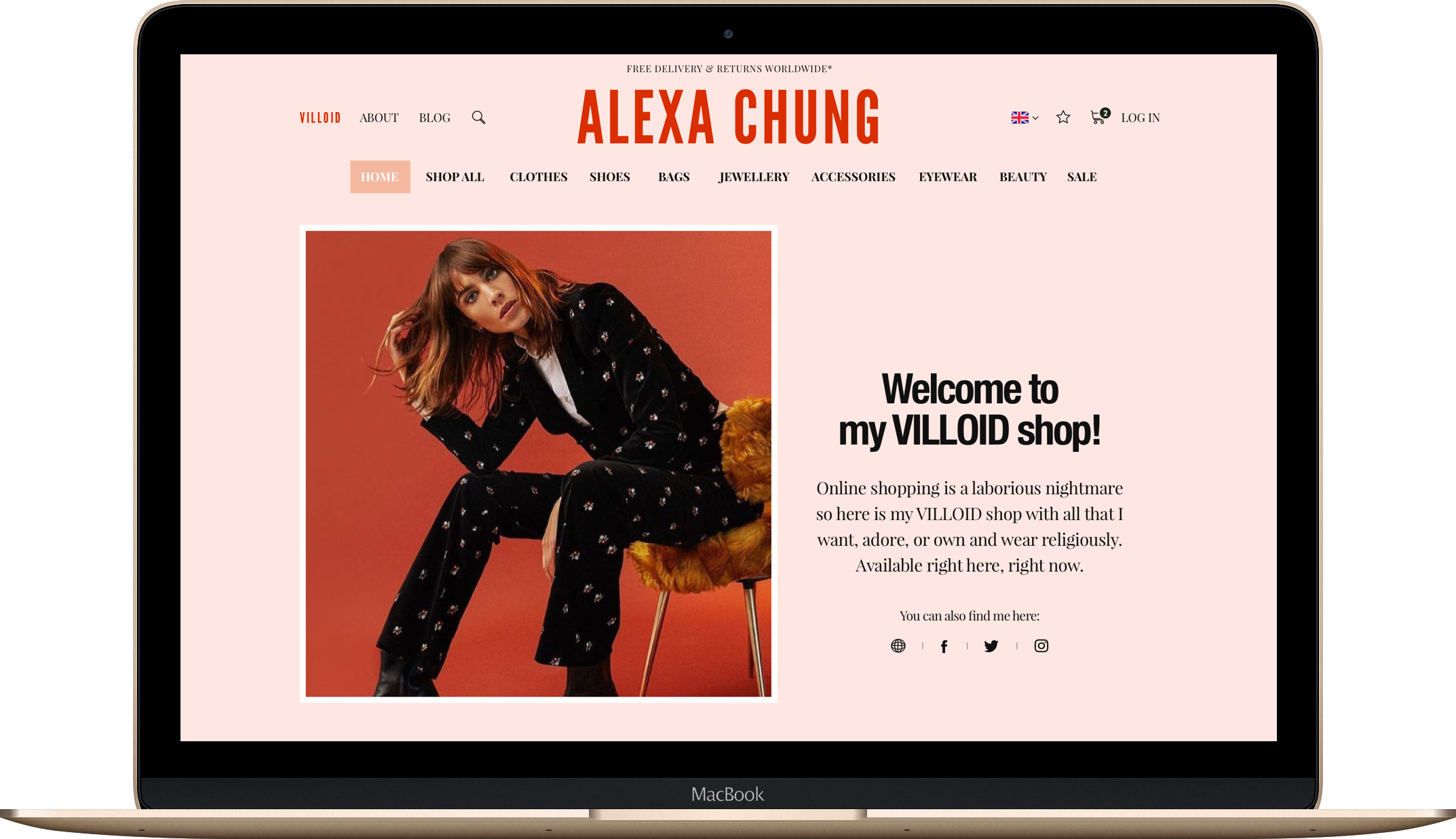 ALEXA CHUNG'S VILLOID SHOP
From 1st December to Christmas Day, we will announce a new shop owner every day – starting with Alexa herself – each celebrating their individuality and favorite brands and products. You can expect some very well established names, some up-and-coming talent, and also some stars that have risen within our VILLOID community.
"I'm so excited to be launching this next phase of VILLOID alongside some incredible women with enviable taste – some are friends, some I just stalk and others are people I'm sure you'll come to know and love. I'm intrigued to see what they do with their shops and look forward to sharing this journey with you all."
– VILLOID CO-FOUNDER ALEXA CHUNG
"In the two years since our launch, we have developed a strong international brand, a solid tech platform, a stream of magnificent brands applying to become part of our ecosystem – and most importantly a warm community of women of all ages, persuasions and locations. It was only natural that we strap on our working gloves and build this new angle to our platform – to give our fans what they've been calling for – an accessible, personalized and hyper curated shopping experience with a nifty buy button. Killing three birds with one stone, we simultaneously allow style influencers to side-step the typical hassles of opening their own stores from scratch, and allow brands to be authentically and organically endorsed by some of the most stylish ladies on the planet."
– VILLOID CEO & CO-FOUNDER, KARIN KAELLMAN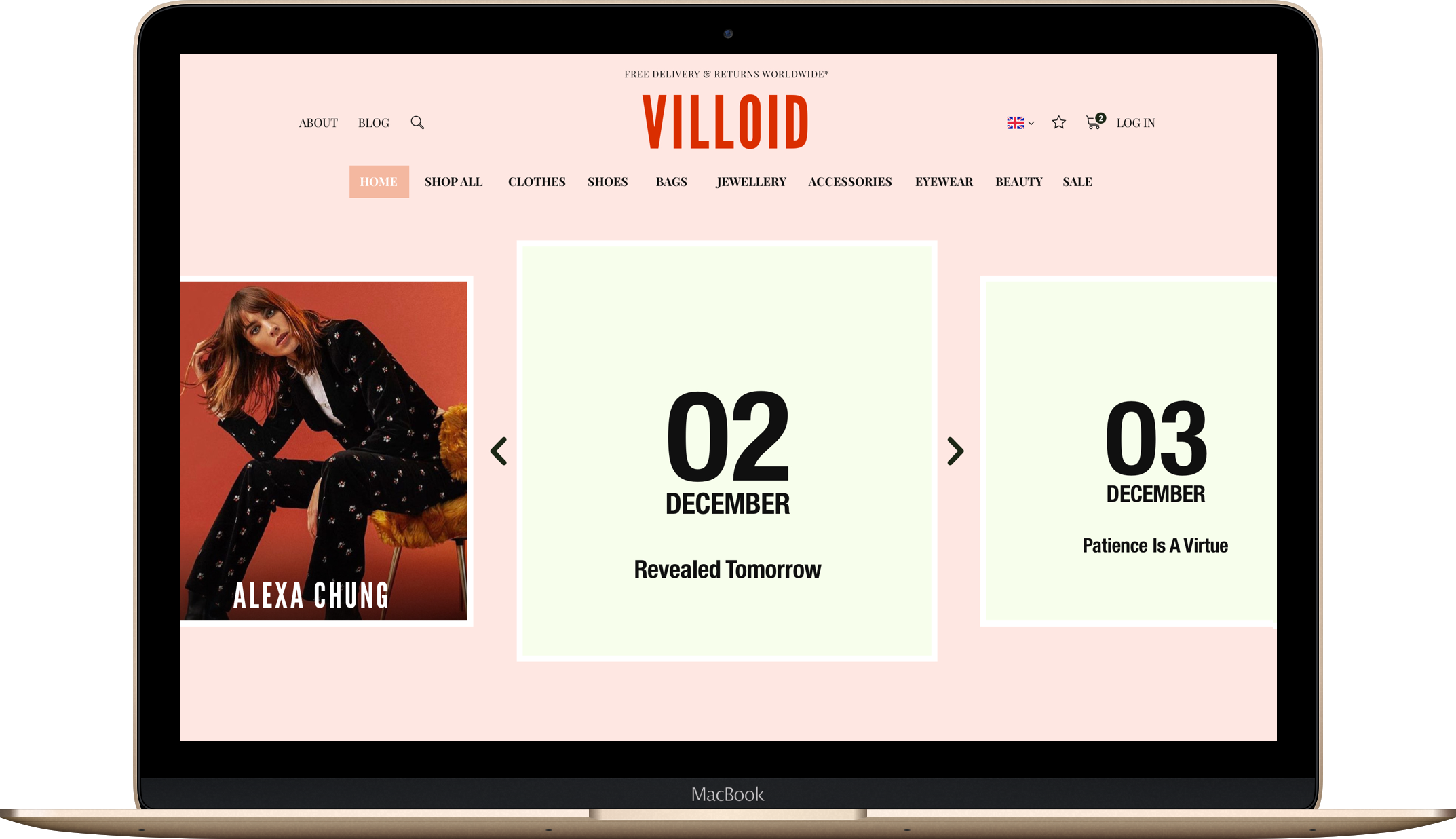 VILLOID SHOP CALENDAR
Since 2016, our VILLOID Emerge program, in conjunction with the British Fashion Council, has been supporting emerging designers by giving them exposure through the VILLOID platform. This will continue, stronger than ever. We're very proud to stock and promote brands like Serena Bute, Pop & Suki and Zanzan – and are excited to be able to help expose their creations to our global audience.
"I'm incredibly excited about my own brand, ALEXACHUNG, but I'm also all about shining a light on emerging designers that catch my eye. Our new VILLOID platform is the perfect way for me – and my fellow shop owners – to do just that."
– VILLOID CO-FOUNDER ALEXA CHUNG
The digital influencer industry is worth $2.5billion a year and, according to Forbes, 92% of consumers trust an influencer more than an advert. People used to get their style inspo from billboards or adverts. Now it's from the style mavens of social media – big and small. They're the future and we're moving forward together.
To experience VILLOID, head to: